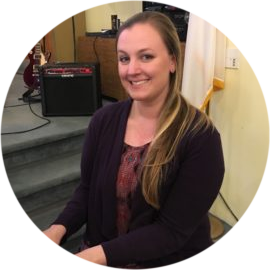 Dorrie Kelly is the pianist and accompanist for Hope UMC. She is also a private piano teacher currently residing in Torrance, CA. She has a B.S. in Music Education and has taught privately for over ten years. She has also served on the music worship team for various churches across the country.
​
Originally from the east-coast, Dorrie re-located to California nearly 10 years ago. She grew up outside of Boston where she studied with Jessica Rubenstein. During her time at Hofstra University she studied with Marilyn Lehman, and received numerous collegiate awards: Rowe Award for Excellence in Collaborative Piano, the Rhoda Pinsley-Levin Honors Recital, the William Lawrence Honors Recital, as well as being an Award Recipient of Hofstra's Annual Concerto Competition where she performed with Hofstra's Symphony Orchestra in 2007.
​
She is happy to be at Hope and have the opportunity to share her passion for music with the congregation. In her spare time she can be found chasing around her very noisy, but very adorable, two-year old son.